Rane Foundation - CSR Initiatives
Rane Group contributes to societal causes through Rane Foundation, a Public Charitable Trust founded in the year 1967, and is the main arm for Rane Group's CSR initiatives
Rane Foundation's initiatives are focused on education, healthcare, environment and community development
All plants involved in development activities in their neighbourhood
Established Rane Polytechnic Technical Campus (RPTC) – A self financed Polytechnic College to empower students with Technical knowledge and Industry specific skills. Visit Rane Polytechnic Technical Campus (RPTC)
Active Environment Concern
Twenty plants accredited to ISO 14001 certification
The plant set standards higher than mandated by law to continuously reduce industrial waste and pollutants
Rane Engine Valve Limited – Received Green Vendor Development Award (GVDP) 2011-12 from Hero Motocorp Ltd.
Rane (Madras) Limited – Received Green Nurturing Program Award 2012 from Karnataka State Pollution Control Board
RANE PIONEER OF CHANGE AWARD
The Rane Pioneer of Change award was instituted as part of Shri L L Narayan (LLN) memorial initiatives during LLN's centenary function held on 6th October 2017. The award was instituted by Rane Foundation to identify and bring into limelight the grass-root level organizations and individuals from Tamil Nadu, who have excelled as social change leaders in the field of Education – Capacity Building & Skill Development, Public Health and Community Development. The award comprised of a medallion and Rs. 10 Lakhs cash prize.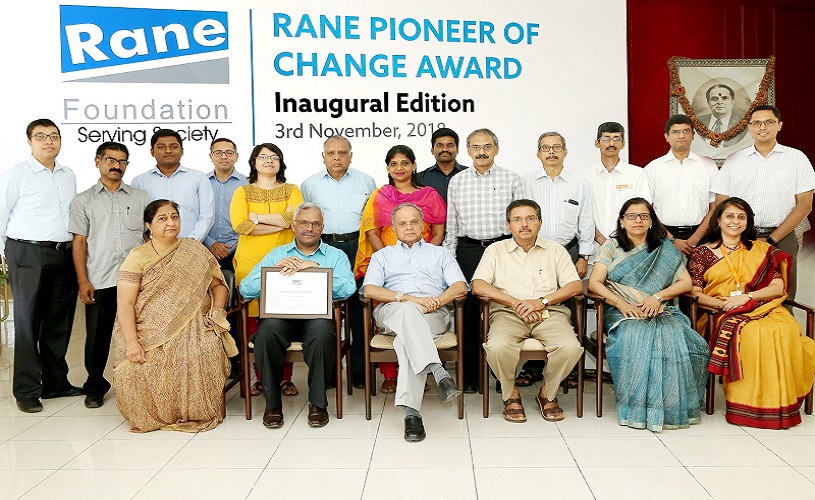 V-EXCEL EDUCATIONAL TRUST
Rane Foundation, the CSR arm of Rane Group presented Rane Pioneer of Change Award to V-Excel Educational Trust (V-Excel). Started in 2001, V-Excel provides lifespan services for persons with special needs. V-Excel run a wide range of programs such as special schools, specialized therapies, remedial intervention, vocational training, teacher training, etc. With Chennai as the hub, it has 10 centres in 2 states and touched lives of 65,000 children since inception.